Community Colleges

St. Clair College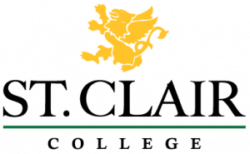 College Description
St. Clair College is the place to start your journey in pursuit of your career and lifelong learning. It's where you will learn new things, expand your mind, create lasting friendships, experience college life, and most importantly, get the skills and knowledge you need to get the job!
St. Clair College embraces the very best in a college education – excellence in teaching, applied learning in our state-of-the-art labs, numerous student support services to help you succeed, and an amazing campus life experience.
St. Clair provides all of this and more for 10,000 full time students who participate in over 120 advanced diplomas, diplomas, degrees and graduate certificates focused in Health, Technology & Trades, Business & I.T., Media Arts and Social Services.
Windsor Campus
2000 Talbot Road West
Windsor, ON N9A 6S4
Campus Map
Chatham Campus
1001 Grand Avenue West
Chatham, ON N7M 5W4
Campus Map
Centre for the Arts
201 Riverside Drive West
Windsor, ON N9A 5K4
MediaPlex
275 Victoria Avenue
Windsor, ON N9A 6Z8
Skilled Trades Regional Training Centre
3403 St. Etienne Blvd.
Windsor, ON N8W 5B1
Call Toll Free: 1-800-387-0524
For more information, email us at info@stclaircollege.ca.
For Continuing Education inquiries, e-mail coned@stclaircollege.ca.
12 total views, 1 today